I am not going to write about myself in the third person. No thanks.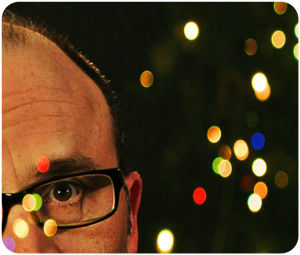 I am a humorist, actor, father, pioneering podcaster…did I say actor? Um, writer, I guess. I wrote a book a couple years ago. I should be writing another book now, a humorous book about what it was like being a stay-at-home dad. But, I'm not writing that book. I'm writing this silly "About" page instead.  And scanning my Facebook wall for funny pictures of people shopping at Walmart.  Man, you gotta love Facebook…
I used to act in TV shows and movies, but once I was home with two kids, that sort of took a back seat.  Luckily, paternity leave is over, and it's time to be back to it.  I've continued to do commercials, which are awesome.  I've done some cool ones, with some of the top directors.  Yes, there are "top" directors in commercials.
I've been hosting and producing The Bitterest Pill podcast since 2004.  Yes, I know, you didn't even know what podcasting was until 2009, so imagine how many times I had to explain to people what I was doing all that time alone in the garage.  I am both proud and embarrassed by the show.  Proud because it is what I do and well done and well liked.  Embarrassed because it is so unabashedly personal and revealing it is difficult to step back and see it as a "show."
I live in Los Angeles, under the flight path at LAX, with my wife, two kids, one dog and four computers.