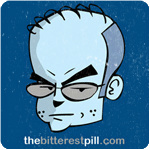 I'm the host of THE BITTEREST PILL podcast, a somewhat weekly audio blog where I complain and commiserate about life as a semi-sane middle-class guy trying to raise kids as a stay-at-home dad on the westside of Los Angeles.
"Why is this endearing?  It just is..." "Sublime" - The New York Times
Since November of 2004, THE BITTEREST PILL has been the main outlet for my stories, insights and misguided misgivings.  It's garnered a fair amount of press, won awards and accolades and lead to my being a micro-pseudo-celebrity in the hearts and minds of over a dozen people worldwide.  It won a "Best Audioblog Award," has been heralded as "endearing," "intelligent," and "sublime" by The New York Times, and has been featured in The Christian Science Monitor, USAToday.com, Business Week, and on NPR, WNBC and Fox News.
Pill Press
"Actor and comedian Dan Klass whines hilariously about his day-to-day life as a stay-at-home-dad in Los Angeles…Always funny, poignant and well observed, [The Bitterest Pill is] an off-the-cuff improvisation about the joys of being a father…""
Radio Times (UK)
"If you haven't listened to Dan Klass' show, The Bitterest Pill, please do so right away for a large dose of laughs, fatherly insights, and easy to digest bile from one of the smartest minds in podcasting."
Ask.com
"Why is this endearing? It just is…" "Sublime"
The New York Times