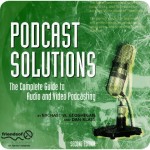 I co-wrote Podcast Solutions: the Complete Guide to Audio and Video Podcasting (Friends of ED Publishing), with podcasting icon Micheal W. Geoghegan. Twice.  It is an insightful guide to all-things-podcasting (if I do say so myself) and  is already in it's second printing.  It's being used as a text book at Duke University and is one of only a handful of non-software specific books carried in the nation's Apple Stores.
If you are at all interested in doing your own podcast, I highly recommend getting the book.  Even though it is several years old, it is still full of valuable and timeless information.
I did not design the cover.