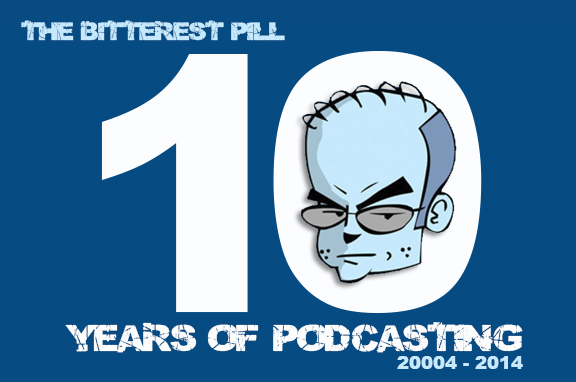 !0th Anniversary Show!  (Don't worry, it's the same old crap)
I went to the latest meeting of the LA Podcasters on Tuesday, scheduled to sort of begin celebrating the 10th year of podcasting in Los Angeles by getting together on the anniversary of the launch of this show (I was not the first person in LA to ever podcast, and have never claimed to be, but I may have been the first to get major media attention and a decent listenership, so every once in a while my friends are nice enough to pretend that means something). Luckily for everyone there, a bunch of grumpy old podcasters may have been saved by a new female warrior.
My daughter's podiatrist, Dr. Shoe (I swear, that's her hame), moved to the east coast, so I had to call the new doctor, Dr. Chow, for an appointment.  How is it that doctors, potentially the smartest and most educated people I come into contact with on a regular basis, hire the stupidest people to run their offices? The conversation I had with Dr. Chow's office staff was so amazingly cyclical and mind-boggling, I almost couldn't complain about it on the show.  Almost.
I had an audition for a show about a highly successful canine blogger.  Yeah, I can actually speak and type and I'm going nowhere fast, but not only does this dog have a blog but he also (apparently) has his own show on The Disney Channel.   I'm not sure if babies were being kidnapped before the audition, but it definetely seems like I was staring at Wayne Federman's ass afterwards.  The thing to take away from that story: whether the bathroom is locked at the libary or not, you should just go to Walgreens.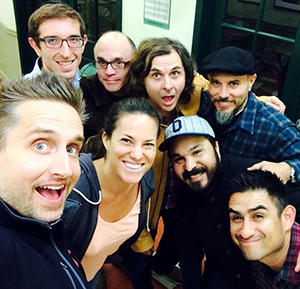 I went to the Screamfest Los Angeles screening of The Quota at The Chinese Theater.  It was a wonderful night, and we saw a bunch of great horror shorts.  Most importantly, I got to be part of Susan Ruttan's entourage ("Yeah, Susan, I'll be your Turtle!") and I smeared the white outer frosting of a protein bar all over my suit jacket while Cush did his Q&A.  Now that's how you shmooze in Hollywood, baby!
—————————————–
PHOTO: Back Row: Joseph Berman (Pod to Pod newsletter), yours truly, Cush (Cush: Things I Say), Lance Anderson (Verge of the Fringe). Front Row: Grant Baciocco (The Radio Adventures of Dr. Floyd, Uncle Interloper), Espree Devora (WeAreLATech Podcast), Alfonzo "Fonz" Martinez & Walt Cortez (Walter and Fonz Show)
Podcast: Play in new window | Download